ScrollingList
control
Syntax
Description
UI.ScrollingList.new (x, y, index, entries)
Create a new instance of list.
x and y are the screen coordinates where the list will begin: numbers
index is the default selected item: number
entries is the list of entries: table
my_scrollinglist:set_index (index)
Set index : number
my_scrollinglist:set_index_delta (delta, wrap)
Set index using delta, with wrapping : number, boolean
my_scrollinglist:redraw ()
Redraw page with ScrollingList elements
query
| Syntax | Description |
| --- | --- |
| my_scrollinglist.x | Returns originating x-coordinate : number |
| my_scrollinglist.y | Returns originating y-coordinate : number |
| my_scrollinglist.index | Returns current index : number |
| my_scrollinglist.entries | Returns list of entries : list |
| my_scrollinglist.active | Returns scrolling list's active state: boolean |
example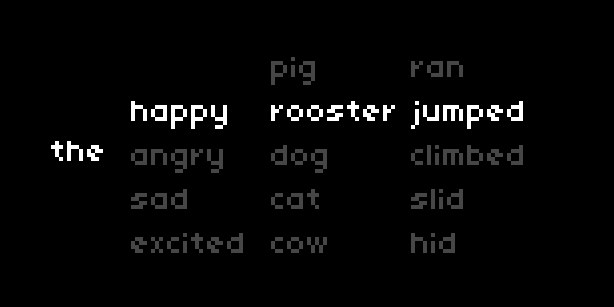 UI

 

=

 

require

(

"ui"

)





-- create tables of entries




adjective

 

=

 

{

'happy'

,

 

'angry'

,

 

'sad'

,

 

'excited'

,

 

'amused'

,

'bored'

,

'hungry'

,

'lazy'

}




animal

 

=

 

{

'pig'

,

 

'rooster'

,

 

'dog'

,

'cat'

,

'cow'

,

'rat'

,

'mouse'

,

'ox'

}




verb

 

=

 

{

'swam'

,

 

'ran'

,

'jumped'

,

'climbed'

,

'slid'

,

'hid'

,

'danced'

,

'stood'

,

'sat'

}





-- creates instances of scrolling lists




scroll

 

=

{}





scroll

[

1

]

 

=

 

UI

.

ScrollingList

.

new

(

20

,

8

,

1

,

adjective

)

 


scroll

[

2

]

 

=

 

UI

.

ScrollingList

.

new

(

55

,

8

,

2

,

animal

)




scroll

[

3

]

 

=

 

UI

.

ScrollingList

.

new

(

90

,

8

,

3

,

verb

)





message

 

=

 

{}





function

 

redraw

()


  

screen

.

clear

()


  

screen

.

font_size

(

8

)


  

if

 

message

.

display

 

then


    

message

:

redraw

()


  

else


    

for

 

i

 

=

 

1

,

3

 

do

 

-- redraw each scrolling list


      

scroll

[

i

]:

redraw

()


    

end


    

screen

.

move

(

0

,

34

)


    

screen

.

level

(

15

)


    

screen

.

text

(

'the'

)


  

end


  

screen

.

update

()




end





function

 

key

(

n

,

z

)


  

if

 

n

 

==

 

2

 

and

 

z

 

==

 

1

 

then


    

sentence

 

=

 

{

'the '

..

adjective

[

scroll

[

1

].

index

],

 

animal

[

scroll

[

2

].

index

]

..

' '

..

verb

[

scroll

[

3

].

index

]}

 

-- updates sentence using indexes


    

message

 

=

 

UI

.

Message

.

new

(

sentence

)

 

-- creates a message using the sentence


    

message

.

display

 

=

 

true

 

-- displays message


  

elseif

 

n

 

==

 

2

 

and

 

z

 

==

 

0

 

then


    

message

.

display

 

=

 

false


  

end


  

redraw

()




end





function

 

enc

(

n

,

d

)


  

if

 

not

 

message

.

display

 

then


    

if

 

n

 

==

 

1

 

then


      

scroll

[

1

]:

set_index_delta

(

d

,

false

)

 

-- sets index according to delta of E1, no wrapping


    

elseif

 

n

 

==

 

2

 

then


      

scroll

[

2

]:

set_index_delta

(

d

,

true

)

 

-- sets index according to delta of E2, with wrapping


    

elseif

 

n

 

==

 

3

 

then


      

scroll

[

3

]:

set_index_delta

(

d

,

false

)

 

-- sets index according to delta of E2, with no wrapping


    

end


    

redraw

()


  

end




end



description
Creates a scrolling list in the on-screen UI. A maximum of five entries is shown at any one time, with at least one entry (or blank) shown above the selected entry.
The UI is drawn using the redraw() function, which needs to be called when there is a change.
UI.ScrollingList.new returns a table which should be stored in a variable (eg. scroll in the example). The various other controls and queries can then be called using the assigned variable in the manner described above.
In the example above, each instance of ScrollingList is stored in the three variables, scroll[1], scroll[2], and scroll[3].
---