Message
control
| Syntax | Description |
| --- | --- |
| UI.Message.new (text_array) | Create a new instance of message. Takes text_array of multiple strings: table of strings |
| my_message:redraw() | Displays the text_array with one line per string |
query
| Syntax | Description |
| --- | --- |
| my_messsage.text | Returns original text array : table |
| my_message.active | Returns message's active state : boolean |
example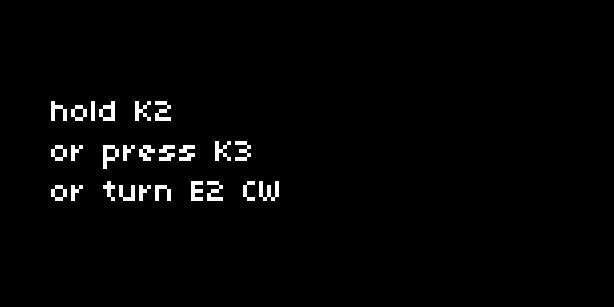 UI

 

=

 

require

(

"ui"

)





function

 

init

()


  

-- create the various text arrays


  

text_array

 

=

 

{}


  

text_array

[

1

]

 

=

 

{

'the end'

,

 

'and the beginning'

,

 

'they are'

,

 

'the same'

}


  

text_array

[

2

]

 

=

 

{

'the relationship between'

,

 

'what we can see'

,

 

'and what we know'

}


  

text_array

[

3

]

 

=

 

{

'do you know'

,

 

'that icarus'

,

 

'flew too close to the sun?'

}


  
  

-- create instances of messages


  

message

 

=

{}


  

for

 

i

=

1

,

3

 

do


    

message

[

i

]

 

=

 

UI

.

Message

.

new

(

text_array

[

i

])


  

end


  
  

is_message_displayed

 

=

 

false

 

-- track whether the UI is showing any of the messages


  

displayed_message

 

=

 

nil

 

-- track which message is being displayed


  

icarus

 

=

 

0

 

-- establish a var to track E2 turns




end





function

 

redraw

()


  

screen

.

clear

()


  

screen

.

font_size

(

8

)


  

screen

.

level

(

15

)


  

if

 

is_message_displayed

 

==

 

false

 

then

 

-- if we aren't displaying a message...


    

local

 

instructions

 

=

 

{

'hold K2'

,

'or press K3'

,

'or turn E2 CW'

}


    

for

 

i

 

=

 

1

,

#

instructions

 

do


      

screen

.

move

(

0

,

14

+

(

i

*

10

))


      

screen

.

text

(

instructions

[

i

])

 

-- then write the instructions on screen.


    

end


  

else

 

-- otherwise, if we are displaying a message...


    

screen

.

clear

()


    

message

[

displayed_message

]:

redraw

()

 

-- draw the message.


    

print

(

"redrawing message"

)

 

-- debugging feedback, to prove only 1 message is drawing at a time.


  

end


  

screen

.

update

()




end





function

 

show_message

(

msg

,

dur

)

 

-- generic function to display message of number 'msg' and for duration (in seconds) 'dur'


  

if

 

not

 

is_message_displayed

 

then

 

-- another way to say is_message_displayed == false


    

if

 

displayed_message

 

~=

 

msg

 

then


      

displayed_message

 

=

 

msg


      

is_message_displayed

 

=

 

true


      

redraw

()


      

if

 

dur

 

~=

 

nil

 

and

 

dur

 

>

 

0

 

then

 

-- if a dur argument is provided...


        

clock

.

run

(

function

()


          

clock

.

sleep

(

dur

)

 

-- wait for the duration to pass,


          

hide_message

(

msg

)

 

-- and hide the message.


        

end

)


      

end


    

end


  

end




end





function

 

hide_message

(

msg

)


  

is_message_displayed

 

=

 

false


  

icarus

 

=

 

0


  

displayed_message

 

=

 

nil


  

redraw

()




end





function

 

key

(

n

,

z

)


  

if

 

not

 

is_message_displayed

 

then

 

-- if there's no message currently being displayed, then...


    

if

 

n

 

==

 

2

 

and

 

z

 

==

 

1

 

then

 

-- when key 2 is held...


      

show_message

(

1

)

 

-- display message 1


    

elseif

 

n

 

==

 

3

 

and

 

z

 

==

 

1

 

then

 

-- otherwise, if key 3 is pressed


      

show_message

(

2

,

2

)

 

-- display message 2 for 2 seconds


    

end


  

else

 

-- if there is a message being displayed...


    

if

 

n

 

==

 

2

 

and

 

z

 

==

 

0

 

and

 

displayed_message

 

==

 

1

 

then

 

-- and if key 2 is released, and message 1 is being displayed, then...


      

hide_message

(

displayed_message

)

 

-- hide it.


    

end


  

end




end





function

 

enc

(

n

,

d

)

 

-- a message can be displayed upon a condition being met


  

if

 

n

 

==

 

2

 

and

 

not

 

is_message_displayed

 

then


    

if

 

d

 

>

 

0

 

and

 

displayed_message

 

~=

 

3

 

then

 

-- only calculate icarus when message 3 is not yet active


      

icarus

 

=

 

icarus

 

+

 

d


    

end


    

if

 

icarus

 

>

 

10

 

then


      

show_message

(

3

,

5

)

 

-- display message 3 for 5 seconds


    

end


  

end




end



description
Provides a way of displaying a message on the screen. UI.Message.new takes a table of strings, with each entry in the table (ie, each string) being displayed on a new line in the message. Messages are useful for indicating to the user that certain operations are finished, or for displaying error messages.
The message is drawn using the redraw() function, which needs to be called to display the message.
UI.Message.new returns a table which should be stored in a variable my_message. The redraw function can then be called using my_message in the manner described above.
In the example above, we show three possible ways messages can be used. K2 displays a message for as long as K2 is held. K3 displays a message for two seconds. When E2 is turned and reaches a certain value, a message is displayed for five seconds. We also define a generic function show_message which we can call whenever we want to display a certain message for a particular duration.
---